All Axis Machining, headquartered in Dallas, Texas, is the marquis innovator and manufacturer of heat sinks and other thermal management components and accessories in the electronics industry.
Over the years, our company has developed and offered a comprehensive set of standard and custom heatsink cooling solutions for all types of electronic packages. Heatsink solutions for these packages also include a variety of standard, optional accessories and labor savings products to help maximize all available performance and manufacturing and economic factors. We produce many standard and custom heatsinks for (but not limited to):
Applications
BGA's/LGA/FPGA
Electrolytic Capacitors
CPU's/Microprocessors
DC-DC Converters
Hard Drives
IGBT's
LED's
Resistors & Power Transistors
Surface Mount Components
Thermoelectric Coolers
EMI/RFI Shielding
Devices
TO-220, TO-218, Multi-watts
Surface Mount, TO-3, TO-247
TO-264, TO-3P TO-5 Packages
IGBT's
Rectifiers
Amplifiers
BGA/LGA/FPGA
Thermoelectric / Peltier Devices
Types of Heatsinks & Accessories
Extruded
Stamped
Skived
Radial
Bonded Fin
Folded Fin
Heatpipe Assemblies
Machined
Liquid Cooled
Heatsink Accessories

Thermal Interface Material
Attachment Methods
(Clips, Double sided tapes, etc.)
All Axis uses a total system design methodology approach towards developing thermal solutions. This simply means that our engineers consider all the interdependent variables (e.g. available airflow, manufacturing assembly, environmental, industrial shock and vibration requirements) prior to developing a solution. In-house thermal analysis capability insures that the early prototypes will meet the required cooling requirements.
In designing or selecting an appropriate heat sink that satisfies the required thermal and volumetric/geometric criteria, one needs to examine various parameters that affect not only the heat-sink performance itself, but also the overall performance of the system. Option of choosing a particular manufacturing style type of heat sink depends largely on the thermal budget allowed for the heat sink and external conditions surrounding the heat sink. Some of these internal and external variable/constraints include:
| | |
| --- | --- |
| Physical | Performance / Environment |
| Maximum Size of the heatsink | Air Flow Approach velocity and cross sectional geometry |
| Appearance (Cosmetics) | ---- Natural, low flow mixed and high flow forced convection |
| Weight of product) | ---- Laminar or Turbulent flow regimes |
| Mounting Considerations | ---- Flow Bypass / Fin Channel Velocity Dynamics |
| Orientation with Respect to Gravity | Maximum Junction and Heatsink Temperature |
| Multiple Heat Sources | Ambient Fluid Temperature |
| High Heat Flux Device | Required Heatsink Thermal Resistance/Heat Dissipation |
| Cost | Available Pressure Drop |
The most optimum thermal solutions are best developed at the beginning of a project. Developing solutions in this manner helps to reduce the total design cycle time. Depending on the how these variables intersect, the heatsinks section process may be very simple and straightforward and only require minimal analysis and already standard product/solution that has already been tooled may already be available. However, we realize that unforeseen circumstances do occur during the design process that impact the original thermal cooling specifications. In these cases our engineering team is proficient in developing solutions for those after the fact situations.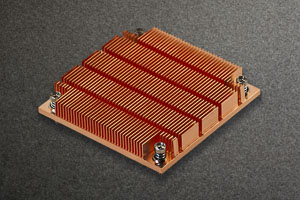 Copper Heatsinks
Maximum Heat Transfer Performance & Properties
Available in the following Manufacturing Technologies

Machined Fin
Wire EDM Fin
Cold Forged (Pin Fin)
Skived Fin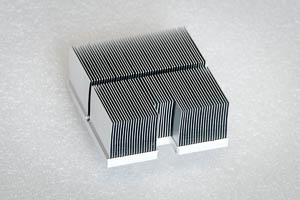 Skived Heatsinks
Aluminum or Copper Material
Highest Cubic Density of Fins and Surface Area
Mostly Custom Designed Heatsinks
Very High Aspect Ratios
Very Thin Fins (0.008" – 0.2mm) thickness
Incorporates a variety of attachment methods (Push Pins, Clips, Screws, etc)
Can be Prototyped without Tooling Expense
Less Costly than machined Heatsinks
Sometimes used as a bonded fin or folded fin replacement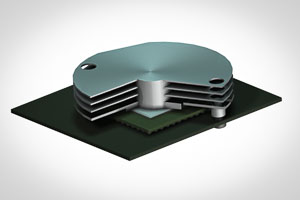 Radial Tower Heatsinks
True Omnidirectional Design
Copper or aluminum Materials
No Tooling Costs
Epoxy Mount or Integrated Spring Mount Designs
Low profile designs with maximum surface areas
Optimized fin spacing designs
Center Post design can be optimized for optimum air flow dynamics
Center Post Conducts uniformly to all fins maximizing thermal performance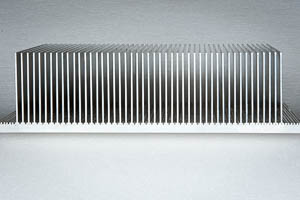 Bonded Fin Heatsinks
Bonded Fin heat is a hybrid manufacturing technique where the cooling fins are bonded or soldered into a base material.
This method allows for several advantages over extruded heatsinks:
High Fin Aspect Ratios (+40:1) for improved surface area availability
Large Footprints (up to 60x48")
Fins and Base can be dissimilar metals in Same Design for improved performance
Selective Fin Location for Reduced Machining Cost and Hardware Access as the base can be machined separately from assembly.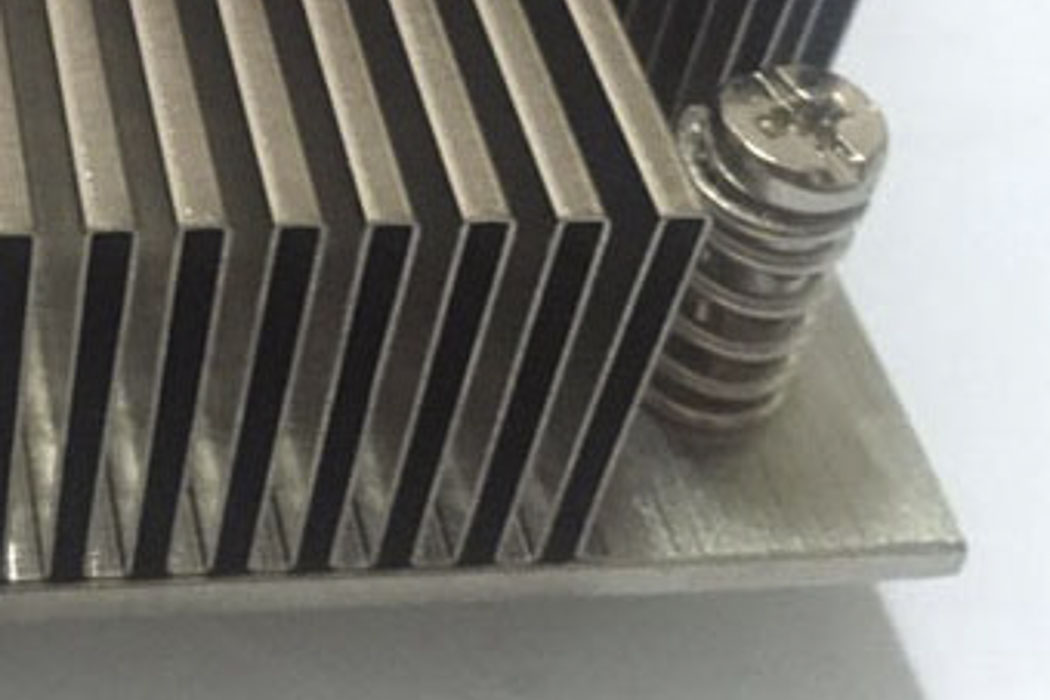 Folded Fin Heatsinks
Folded Fin heatsinks use corrugated sheet metal bonded to either a stamped or machine base.
Lightest weight of all heatsink manufacturing methods
Aluminum or Copper Material
Fins and Base can be dissimilar metals in same design (e.g. copper base and aluminum fins)
Highest Cubic Density of Fins and Surface Area
Mostly Custom Designed Heatsinks
Very High Aspect Ratios
Very Thin Fins (0.004" – 0.1mm) thickness
Various Fin types available are:
Plain Fins (Flat, Semi-Flt and Round Crest)
Lanced and Louvered
Ruffled & Herringbone
Can be Prototyped without Tooling Expense
Less Costly than machined Heatsinks
Sometimes used as a bonded fin replacement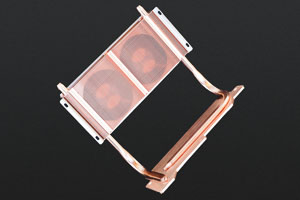 Heatpipe Assemblies
Custom Designed Assemblies where thermal solution is:

Space Constrained
High Heat Flux Cooling Application
Harsh Environments
Passive Cooling

Advantages of these designs have:

Very High thermal Conductivity
Flexibility for space limited chassis
Implement passive cooling Designs
Improved Heatsink Spreading resistance at the source and heat exchanger.
Higher operational life over active cooling solutions
Cold Forged Heatsinks
Pure Copper And Aluminum Materials
Complex 3D geometry (elliptical, star, spiral, square, round) fins can be created.
Embedding copper heat spreaders into heat sink base.
Embedding of heat pipes into the heat sink base.
Assembly of fans to create a volumetrically efficient heat sink.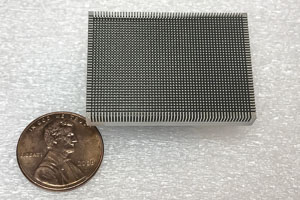 Machined/Wire EDM Heatsinks
These machined / wire EDM heatsinks are often used for research and low volume applications.
Unlimited configurations are available
Not limited to aluminum and copper, but can include Iconel, and stainless steel material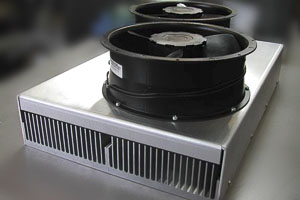 Hybrid Hi-Density Heatsinks
Available only in Aluminum
Combines High Aspect ratio extrusions or skivved fin with a base fusing process to extend the width the heatsink to +60" without any thermal loses due to spreading resistance impairments.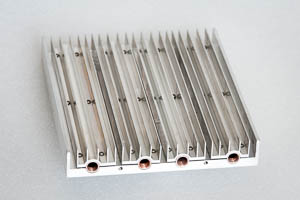 Liquid Cooled Heatsinks Or Cold Plates
Custom Designed Liquid Cooled Cold plates for High-heat flux electronic components
Designs include

Single pass flow through systems
Single Convoluted tube for multi passes on cold plates

Tubes are affixed into place with thermally conductive epoxy.
Cold plates are fly-cut and machined for maximum heat transfer.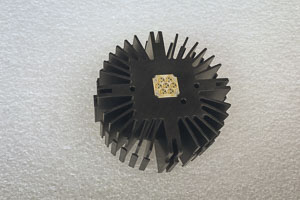 LED Heatsinks
Large Portfolio of Heatsinks for various applications:

Circular Heatsinks
Channel heatsinks
Fins Optimized for either Lower

Power or High Power LED's.
Able to produce the necessary mounting hardware for both Low and High Bay, Cobra Heads, Floodlights, street lighting, Architectural, and other Luminaire applications.
Heatsink Accessories
Many products can be packed in tape and reel formats for use in automated pick-and place machines.
These accessories include attachment methods (clips and double sided tapes), thermal interface materials, and productivity saving hardware.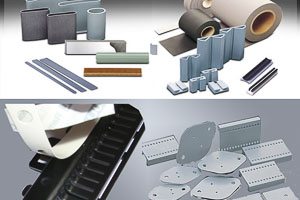 Thermal Interface Materials
All Axis Machining provides a wide range of thermal interface material solutions, any of which can be factory applied to the heat sink. There are several categories of thermal interface material from which to choose from:

Thermal Compounds & Greases
Elastomeric Films & Gap Fillers
Phase Change Materials
Double sided Tapes.

Contact factory for details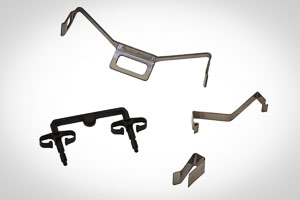 Clips
All Axis produces a wide variety of standard and custom clips to attached heat generating electronics to the heatsinks.
Clips Provide:

Uniform Pressure
Constant Interfacial Pressure
Labor Savings
Force regulated
Allow removal and separation of Heatsink and device if needed
Replace torqued hardware

Contact factory for details